Colin Mochrie is my other choice for favorite improv-er.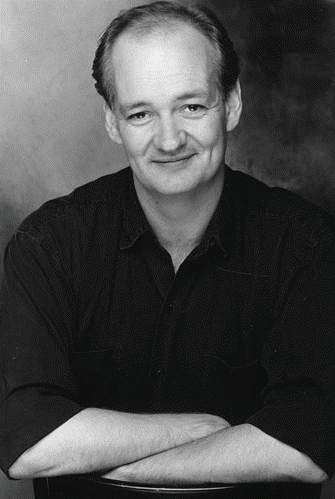 *
Colin Andrew Mochrie was born Nov.30 1957 in Kilmarnock, Scotland. Colin's family moved to Montreal in Canada in 1964 and finally to Vancouver in 1969. Colin became a Canadian citizen in 1977, and is proud of his Canadian way. Colin has one brother and one sister, also a lot of his family remain in Vancouver today.
During his time at Killarney he got involved with acting in plays when he was dared to try out for a high school play by a friend., and found out when he accidentally ripped his pants that he has a gift of creating laughter. He was hooked, which lead him to start theatre sports. He graduated as valedictorian of his high school senior class and later attended four years of Theater school.
Around 1986, Colin was soon introduced by a friend to his later to be "partner in crime" Ryan Stiles. At this time, Ryan was currently employed at Second City in Toronto. When a spot opened for a performer, Ryan suggested that Colin try out for the spot. That's what he did. He was cast by his soon-to-be wife, Debra McGrath.
In 1989 he married comedianne Debra McGrath and they have one son Luke born in 1991.
He worked at Second City in Toronto before joining the British WLiiA?
The moved to LA and while in Los Angeles, Colin was confronted by producer of "Whose Line is it Anyway?" Dan Patterson, he was asked to audition for the show. Colin had auditioned earlier in Toronto, but didnt make it. This time, he did. After living in LA for just a little while, Deb, Colin, and Luke moved back to Toronto.
Colin is now one of the busiest actors/comedians in Canada. He was on the British version of Whose Line for 1988-1998 and he is currently on the American version of Whose Line, he has performed there from 1998 onward. Colin also has a spot on the Canadian show Blackfly. He has hosted a game show called Supertown Challenge. Colin has also appeared on TV shows including "The Drew Carey Show", "Improv Heaven and Hell", "Hollywood Squares", and a few more, including several specials for Disney on ABC. Colin claims he will keep doing Whose Line for as long as they want him and he hopes to act in more movies in the future.
Colin recently was nominated for a Canadian comedy award for his performances in "Whose Line is it Anyway?" and he won.
Colin's Acceptance Speech: "I too have been very fortunate throughout my improv career to have been surrounded by great improvisers and that luck extended to the nominees in this category. I've had the honour and the pleasure... which is basically the same word... of working with Bruce and Albert and Jack and Steve, and I took Bruce's workshops in the early fifties... So, I'd like to accept this on behalf of them and every other improviser I've ever worked with. I'd like to thank my wife Deb for the support, on and off stage, and my son Luke who spurs me on by saying things like 'Yeah, that was funny the first time you made it up.' Thank you."